Welcome to AppleJazz Music Store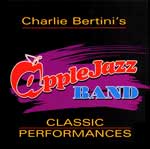 CLASSIC PERFROMANCES
Charlie Bertini's AppleJazz Band
PRICE: $16.00

The AppleJazz Festival is an Upstate New York tradition that began in 1984 as a jam session, and continues as such to this day. The makeup of the band has varied somewhat from year to year, but top-quality artists and electrifying musical performances have been a hallmark of the festival from day one. We assemble only once a year and, without rehearsing, we put on a one-time show that is made up on the spot. This creates a wonderful spontaneity and excitement that only a live, improv performance can deliver.
This double CD recording was made from a collection of multi-track digital tapes that were recorded at the 1997, 1998, and 1999 festivals—the three years that we put up a huge tent for the concerts. Beautifully recorded by Mike Konkol with lots of help from Josh Jaquin, this compilation of classic AppleJazz performances covers just about every style, arrangement, and artist that has graced our bandstand.
These two discs represent the best of the AppleJazz Band. On them, you will hear fabulous performers, heartfelt arrangements, enthusiastic audiences, a little rain and thunder, and the hard-driving rhythm of this one-of-a-kind ensemble. You'll hear swing, funk, sambas, ballads, rhythm and blues, and even some Motown and Beatles selections, all improvised on the spot.
You will hear a very rare performance by singers Ronnie Leigh and Joe Whiting, who share the stage on I Love Being Here With You and America the Beautiful. Listen to the breathtaking beauty of Marvin Stamm, John Allred, and Ronnie France on A Child is Born, while a steady rainstorm underscores their playing. On the day before Father's Day 1997, I paid tribute to all of the dads in the audience by playing The Wind Beneath my Wings. You could have heard a pin drop.
Keyboardists Tommy Rau and Jeff Phillips perform beautifully on their multiple instruments, accompanying soloists and filling the air with wonderful sounds including piano, Hammond organ, Fender Rhodes, and even strings. Jeff also performs a duet with Dave Hanlon on Secret Love, with Jeff playing bass pedals with his feet!
Ronnie Leigh will treat you to his musical magic with unique renditions of I Wish You Love, Stompin' at the Savoy, and Ain't Misbehavin'. Dave Feinstein's guitar will rock your socks off on Everyday I Have the Blues and Stormy Monday. Soulful saxman John Kane is featured on Caravan and Georgia on my Mind, with fine backup work by trombonist Dick Chave. In one of his annual solos, Dave Hanlon displays his unbelievable drumming technique on Peter Gunn.
Vocalist Peter Dean brings a whole new sound to the stage with his funky version of Mustang Sally, complete with Jim Reagan's baritone sax and loose backup vocals by some partying females from our audience. Peter finishes the set with his elegant interpretation of the Beatles' Let it Be, and no AppleJazz CD would be complete without a tuba solo from our favorite low brass monster, Dave Gannett.
Whether you are driving in your car, relaxing on the sofa, or partying with friends, you will feel as though you are right in the middle of the concert, engulfed in all of its energy, urgency, excitement, and fabulous musicianship. In the words of Joe Whiting, "It's like skydiving without a parachute."
Enjoy the ride.
Charlie Bertini
Musicians:
CHARLIE BERTINI trumpet, leader
JOHN KANE tenor & soprano saxes
DICK CHAVE trombone
DAVE HANLON drums
RONNIE FRANCE bass
DAVE GANNETT tuba, bass
TOM RAU keyboards
JEFF PHILLIPS keyboards
RONNIE LEIGH vocal
JOHN ALLRED trombone
MARVIN STAMM trumpet
DAVE FEINSTEIN guitar
LOREN BARRIGAR guitar
JOE WHITING vocals
PETER DEAN vocals
JIM REAGAN baritone sax
Record label: AppleJazz Records
Catalog # AJCD0098 Produced by Charlie Bertini
Recorded: AppleJazz in June 1997, 1998, 1999