Welcome to AppleJazz Music Store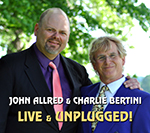 LIVE & UNPLUGGED
John Allred & Charlie Bertini
PRICE: $11.00

The Center for the Arts of Homer in Homer, New York, was originally the First Baptist Church of Homer.  Built in 1893 from locally made bricks, the building exemplifies the Richardson Romanesque style that was popular in that era.
After more than a century of serving parishioners in this tiny town nestled in the rolling hills of Central New York, the church was purchased in 2001 by a small group of caring local individuals who dedicated themselves to a dual mission of enhancing opportunities for appreciation of the arts and preserving this historic Homer landmark.  
Since its official opening in 2005, the center has proven to be a remarkable concert venue.  With no amplification or reinforcement of any kind, the near-perfect acoustics of the former church sanctuary provide a memorable listening experience that is sonorous yet warm and delicate at the same time.
This unique setting was a perfect place for trombonist John Allred and trumpeter Charlie Bertini to shine.  Although these two accomplished artists had previously played together countless times in different ensembles over a period of many years, this performance marked the first time the two of them had paired for a full-length concert together.
Backed by a stellar rhythm section of piano, guitar and acoustic bass, John and Charlie clearly enjoyed the communication and spontaneity of performing live that evening.  Fortunately, the fleeting, magical moments they shared were captured by recording engineer Ray Ackerman and can now be enjoyed by all.  This performance is truly pure and organic jazz at its finest.
Musicians:
JOHN ALLRED, trombone
CHARLIE BERTINI, trumpet & flugelhorn
DAVE SOLAZZO, grand piano
TOM BRONZETTI, guitar
PHIL FLANIGAN, bass
Performed on October 2, 2010 at the Center for the Arts of Homer, NY
http://www.center4art.org
Recorded by Ray Ackerman – First Chair Recording
Mixed by Kendall S. Thomsen
Mastered by Bob Katz – Digital Domain, Orlando, FL
http://www.digido.com
Artwork and graphics by Dave Strong
Cover photo by Laura Brazak
Concert photos by John Herr
Produced by Charlie Bertini
Executive Producers: Andy de Ganahl, Tom Knobel, Karl & Susie Kessler
AJCD0064 APPLEJAZZ RECORDS ©2014
Duplication of the recording or printed matter contained herein is a violation of applicable laws. Made in USA.