Welcome to AppleJazz Music Store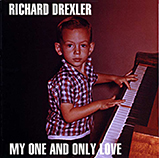 MY ONE AND ONLY LOVE
Richard Drexler
PRICE: $11.00

"Richard Drexler has a wonderful ability to allow the melody to shine through very advanced harmonic lines and polytonal chords. He is an amazing pianist and on this recording proves to be a surprising vocalist, too."
- Dave Brubeck
Sometimes the first opportunity for musicians to play together yields remarkable results. This was one of those times. From the opening song, I fell into a wonderful peace, knowing I didn't have to do any timekeeping, and whatever direction I wanted to go would be picked up immediately by two sensitive, veteran players with terrific ears. Many moments on this recording parallel the cohesiveness of musicians who have played together for many years. Only minimal discussion of substitute chord patterns preceded each tune. The rest was all listening and reacting, except for the written changes Mick McClain gave me on "I Got It Bad".
This recording came about quite by accident. In August of 1992, after attending my sister's wedding in Illinois, I called two Evanston musicians whom I had known from our college days in the '70s. Although we used to hang out with each other, we had never played together. Neither Kelly Sill nor Joel Spencer felt they could accommodate a session in their homes, so we rented rehearsal space in a studio. I figured it only made sense to hire an engineer and record what we played. Scott Steinman, an engineer from Studio Media, offered his services and quickly dialed up a great sound, direct to two-track digital tape, and the four-hour session went very smoothly. After bootleg recordings were circulated, Scott and the studio became the first choice of many Chicagoland jazz musicians!
Every number was a first take, so this "live" recording includes a few things that would have been corrected if we were overdubbing, mixing, or editing. In "Alice In Wonderland," I violated the dictum of Nat Adderley, who often said, "It's OK to space if you don't lose your place." Listeners who know how to follow structural form will realize I mistakenly added an extra "A" section. Kelly caught this right away and followed me.
I rarely sing, but I think the reason I did then was that I had become intrigued by the limitations of accompanying yourself, rather than another singer. I had recently heard a Shirley Horn live recording and commented on how tastefully her accompanist filled in behind the vocal, not realizing that she was singing and playing! This presents some challenges, not the least of which is producing enough air support to sing correctly from a sitting position while deciding what to play on the piano. This gave me new vision and respect for the talents of other piano/vocalists like Fats Waller, Nat King Cole, and Diana Krall.
Eventually, the bootleg demos from this session reached producer Charlie Bertini and ultimately resulted in this release, as well as an invitation to play with Kelly Sill on John Allred's amazing album "Focused," which has also been released on AppleJazz Records.
I hope you will enjoy this candid, honest, exhilarating session as much as we enjoyed making the music and playing together at last.
Richard Drexler
Musicians:
RICHARD DREXLER leader, vocals, piano
KELLY SILL bass
JOEL SPENCER drums
Record Label: AppleJazz Records
Catalog # AJCD0092
Produced by Charlie Bertini
Recorded at Studiomedia Recording Company, Evanston, IL