Welcome to AppleJazz Music Store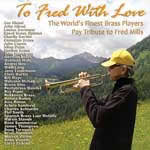 TO FRED WITH LOVE (2 CD Set)
Fred Mills
PRICE: $16.00

This project began after former Canadian Brass trumpeter Fred Mills' untimely death in 2009, when Louise Baranger (Fred's former wife) approached me with the unique idea of asking Fred's friends, fellow musicians and former students to "donate" a track to a compilation CD. The profits from the sales of the CD would go directly to Fred's newly established scholarship fund at the University of Georgia where he had been a trumpet professor for the past decade. I eagerly accepted the challenge, not knowing just how enthusiastic Fred's friends would be!
The artists cover a wide range of styles and instruments – From trumpets, to trombones, tubas, flugelhorns, pianos, orchestras, and both large and small brass groups, the response was overwhelming. Fred had friends around the globe and they all wanted to show their love and respect for him. Thirty-six artists are represented here in this unique and loving tribute. Many of the artists recorded their tracks specifically for this tribute and as a result, the only source for hearing these is on this compilation. Represented on this collection are players from The New York Philharmonic, Chicago Symphony, Rochester Philharmonic, Boston Symphony, Bolshoi Ballet, the "President's Own" Marine Band, Hollywood recording artists, Jazz artists, GRAMMY award winners, and some of the world's finest brass groups, including the legendary Canadian Brass.
This is a one-of-a-kind collection of astounding performances, all assembled out of love for Fred Mills. Whether you are a teacher, student, performer, audiophile, or just a lover of outstanding performances, this CD will bring you joy and pleasure. Fred had magnetism, talent, and stature in the music business that few others possess ­– traits which have inspired this diverse group of players to come together for this musical tribute.
And now, thanks to the sales of this CD, trumpet students at the Hugh Hodgson School of Music at the University of Georgia will benefit for many years to come as they allow Fred's legacy to live on and on.
100% of the profits from sales of this double CD benefit the W. Fred Mills Scholarship Fund at the University of Georgia, Athens, GA, USA. To make additional gifts to this fund, please contact: Business Manager at the Hugh Hodgson School of Music at UGA (706) 542-3737.
Learn more at: www.music.uga.edu/giving/fredmills.php
Musicians:
Joe Alessi trombone
John Allred trombone
Louise Baranger trumpet
Basel Brass Quintet
Charlie Bertini trumpet
Canadian Brass
John Capon bass trombone
Allan Dean flugelhorn
Epsilon Brass
German Brass
John Hagstrom trumpet
Matthias Höfs trumpet
Andrei Ikov cornet
Mike Lang piano
Jens Lindemann piccolo trumpet
Chris Martin trumpet
Bill Mays piano
Malcolm McNab trumpet
Fred Mills trumpet
Bruce Otto trombone
PentaBrass Quintet
Roy Poper trumpet
Rekkenze Brass
Ronald Romm trumpet
Avis Romm piano
Arturo Sandoval trumpet
Charlie Schlueter trumpet
Phil Smith trumpet
Spanish Brass Luur Metalls
Marvin Stamm trumpet
Knox Summerour trumpet
James Thompson trumpet
Doug Tornquist tuba
Brian Turnmire trumpet
Warren Vaché cornet
Allen Vizzutti flugelhorn/trumpet
Larry Zalkind trombone
Record Label: AppleJazz Records
Catalog # AJCD0035
Produced by Louise Baranger & Charlie Bertini