Welcome to AppleJazz Music Store
John's solo transcriptions from the LIVE IN SCOTLAND album are now available for purchase!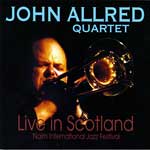 The transcriptions are PDF files and are $3 each. Once you have purchased the solos you want, you will receive the PDF files in an email. An audio sample is provided to help with your choices.
Here's you chance to work on your jazz chops, analyze John's solo construction, or just marvel at his creative abilities!
The solos are offered in bass clef, treble clef, and Bb. Choose the file that's right for you and get started on finding out why John Allred is the best jazz trombonist on the scene today!


John Allred's Transcriptions