Welcome to AppleJazz Music Store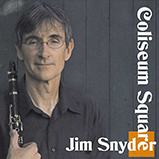 Coliseum Square
Jim Snyder
PRICE: $11.00

An accomplished and highly sought after musician for recordings, tours, and jazz festivals, this is Jim's first release as a leader. His marvelous abilities on the clarinet are all evident here; sweet to sultry, rowdy to elegant, brilliant to introspective. Jim shares his moods and his seemingly effortless playing with us on this CD.
Completing this musical treat are some of the finest rhythm players you will ever hear: Jeff Phillips on the Steinway grand piano, Jerry Krahn on his Ellsberry Arch de Lutan acoustic guitar, Charlie Silva on acoustic bass, and Eddie Metz on drums. Hosting a variety of musical styles, this CD defies being "compartmentalized". Instead, it offers us brilliant arrangements in a variety of settings; constantly changing and always refreshing.
Magnificently recorded by David Brown at Eastern Sky Studios in Winter Springs, FL, this is a CD that will reward you many times over.
About Jim Snyder:
The Clarinet Guy" (www.theclarinetguy.com) has been one of the busiest jazz clarinetists of the last 35 years. His experience runs from sideman to soloist; from jazz festivals to recording studios; from Bourbon Street nightclubs to symphony halls; from theme parks to cruise ships. As a result of his extensive travel with trumpeter Al Hirt, and with New Orleans' Dukes of Dixieland, Jim has performed with many of the country's symphony orchestras. He has spent many years on the road with various jazz bands playing "one-nighters", including a lengthy performance/educational tour of Alaska, funded in part by the NEA. Jim has had performing residencies at both the 1982, and 1990 Worlds' Fairs - in Knoxville, TN, and Osaka, Japan, respectively - and has been regularly featured at jazz festivals all over the U.S. and France. He's an active soloist and clinician, and has been a Yamaha performing artist since 1982.
Jim appeared daily at Walt Disney's Magic Kingdom for 13 years as an original member of the Main Street Rhythm Rascals. You may have seem him at Epcot or the Disney/MGM Studios or Cypress Gardens, Kings Island, Kings Dominion or Carowinds. He's a regular cast member of and soloist for the Mickey Finn Show of Las Vegas/NBC television fame. Perhaps you have seen him at Rosie O'Grady's in Orlando or Mahogany Hall in New Orleans or Woody Riley's Warehouse in Clearwater, FL. It's possible you heard him at a nightclub in New Orleans or Washington, D.C., Baltimore or Tampa. You may have heard him as part of the New Orleans Hilton's house trio or with the bands of Banu Gibson, Conrad Jones or Eddie Bayard. He's on a bunch of recordings - even a country music cd (The Bellamy Brothers!) - and his is the clarinet sound you hear on Warner Brothers' new international music education program.
Jim enjoys working on racing bicycles in his spare time, and continues to be one of the busiest and most sought-after clarinetists in the business.
Musicians:
JIM SNYDER leader, clarinet
JEFF PHILLIPS piano
JERRY KRAHN guitar
CHARLIE SILVA bass
EDDIE METZ drum
Record label: AppleJazz Records
catalog # AJCD0056
Produced by Charlie Bertini
Recorded at Eastern Sky Studios, Winter Springs, FL 9/2007