Welcome to AppleJazz Music Store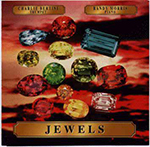 JEWELS
Charlie Bertini
PRICE: $11.00

Here are some words from the two artists on this recording:
"When my wife became pregnant with our first child, she asked me if I would record some trumpet music to play for the baby in the womb. The music would have to be delicate, sweet, soothing, and simple. It must be relaxing for the listener, be it Mother or Child, and timeless in style and interpretation. I called upon Randy Morris to play piano in his articulate, sensitive manner. Randy informed me that he had just become a grandfather and would be delighted to record some songs for HIS new grandson. And so the song selection began; some standards, some classics, a waltz, a lullaby, and some very personal compositions by close friends (previously unrecorded and unpublished). All in all, a collection of very special tunes for some very special people, recorded in an intimate setting; a grand piano and a solo horn. The Songs, the Instruments, the Listeners; all JEWELS."
- Charlie Bertini
"It is serendipitous when working on an enjoyable music project aligns with a happy event in one's personal life. Such is the case here, when the preparation of this album coincided with the arrival of my first grandchild, Samuel A. Morris. Charlie, his wife, Denise, my daughter, Dawn, and little Sam all contribute to the happiness and warmth found in this music."
- Randy Morris
Musicians:
CHARLIE BERTINI trumpet/cornet/flugelhorn
RANDY MORRIS piano

Record Label: AppleJazz Records
Catalog # AJCD0034

Produced by Charlie Bertini
Recorded February 16 & 17, 1995 at PARC Studios,
Altamonte Springs, FL