Welcome to AppleJazz Music Store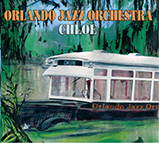 CHLOE
Orlando Jazz Orchestra
PRICE: $11.00

The music on this recording is a mix of original compositions, new arrangements, some transcriptions and a few classic charts that have rarely been recorded. The Central Florida region is blessed with a deep pool of great musicians, composers and arrangers, many of whom are in The Orlando Jazz Orchestra. We chose to feature these different talents on this recording. 
The title cut was arranged by a favorite of ours and one of the greatest arrangers of all time, Bill Finegan. His arrangement of Chloe, originally for Tommy Dorsey, is an example of his amazing work. 
Now I need to brag about our own guys.
Dave MacKenzie is one of those musicians who can do it all – composer, arranger, transcriber and fine sax player. His compositions, The Man With The Bus and Hooloovoo are definitely two of the highlights of this recording.  Dave Wolpe is one of the world's greatest arrangers and we are fortunate that he lives right here in Orlando. His chart of the Dave Brubeck tune, Moody, is a great example of his fine arranging skills.  Matt McCarthy is another guy who can do it all. He contributed a suite of three compositions – Serious People Doing Serious Things, The Eagles Have Left The Building and Serious Eagles Doing People Things. These tunes combine both classic and modern musical characteristics for the band. Auralsynthesis is an original composition by trumpeter/arranger Ed Gaston and provides a unique style of colors and textures for the Orchestra. Retired Navy saxophonist Dave Weaver arranged the Ralph Towner composition Icarus, providing a modern and progressive chart to our collection. Our vocalist Amy Parnell delivers Marion Evans' straight-ahead version of I Got A Feelin' You're Foolin' as inspired by one of her favorite singers, Helen O'Connell. Amy's chart on Lullaby of Broadway was originally arranged by Frank DeVol for Ella Fitzgerald. 
As the leader of The OJO, I am fortunate to have several talented transcribers in the group so we can perform music that is out of print or was never printed at all.  Frank Wosar's transcription of Blue Jean Beguine by Cat Anderson was arranged by Ernie Wilkins and originally performed by the Duke Ellington Orchestra. A huge transcribing challenge was presented to Matt McCarthy, who did the meticulous transcription of Lady Chatterley's Mother, composed by the great Al Cohn.  
About the recording:
These musical selections were recorded "live" in the studio. All the musicians were present and recorded at the same time, in one room, with no headphones.  Minimal miking was used in order to get that classic sound of the early stereo recordings of the late 1950's and early 1960's. This method of recording is very challenging but well worth the effort. You will really hear exactly how the band sounds live, with the dynamics and blending done by the musicians themselves. This recording showcases the great talent that we have in The Orlando Jazz Orchestra and we hope you enjoy the sounds you hear.
Keep Swingin'!     
Greg Parnell
Musicians:
Saxes:
Dave MacKenzie
Gabe Carson
John Orsini
Rex Wertz
Dave Weaver
Trumpets:
Charlie Bertini
Matt McCarthy
Scott Dickenson
Joe Young IV
Trombones:
Frank Wosar
Corey Paul
Harold Johnson
Dale Edwards
Cary Frank - Piano
Ben Kramer - Bass
Greg Parnell - Director/Drums
Amy Parnell - Vocals

Record label: AppleJazz Records
catalog # AJCD-0013
Produced by Greg Parnell & Charlie Bertini
Recorded at Starke Lake Studios, Ocoee, FL
June 9, 2013