Welcome to AppleJazz Music Store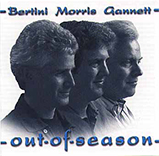 OUT OF SEASON
Charlie Bertini
PRICE: $11.00

This recording was engineered and mixed like a fine soup recipe, using a combination of old-world and new-world ingredients. Much of the sound, including the overdubs, was captured using the famous Blumlein microphone technique, which results in a very natural, spacious sound. We also used some new-world spices to keep the intimacy, punch, clarity, and dynamics that make a great jazz recording come alive. The technology included some custom-built, one-of-a-kind A/D and D/A converters as well as 24-bit recording and analog mixing on the fabulous all-discrete API Legacy console, with unparalleled short-signal path and headroom.
The history of this recording traces its roots to what began for us as a musical "Christmas card" to friends and family that evolved into two best-selling Christmas albums through the foresight of Arbors Records CEO, Mat Domber. Those recordings are CHRISTMAS COOKIES and FRESH BATCH. (www.arborsjazz.com)
We were privileged to touch many people's lives in an intimate way through those recordings, including two longtime fans of Bill Allred's Classic Jazz Band and its lead trumpeter, Charlie Bertini. Those two friends wanted to hear Bertini, Morris and Gannett play something other than Christmas music; to hear them "Out of Season," so to speak. Happily for us, they were willing to help make that possible.
From both the technical and musical perspectives, you will hear the guys as never before, thanks to the remarkable ears and unflinching perfectionism of legendary recordist, Bob Katz. His acoustic rendering of the trio will delight even the most demanding audiophile, revealing a warmth and intimacy that allows the music full sway.
The trio showed up at the studio with mounds of music and instruments, with variety being the operative factor. From John Katalenic's classy arrangement of "Mood Indigo," to "Come Back To Sorrento" that fairly reeks of garlic, to, of all things, "Dudley Do-Right of The Mounties"... well, pigeon-holing is out the window on this album! But it's honest, and played by three friends who love the music and love to perform - especially for you folks who love to listen.
Musicians:
CHARLIE BERTINI leader, trumpet, flugelhorn
RANDY MORRIS piano, acoustic guitar, accordion, ukelele, vibes
DAVE GANNETT tuba
ORLANDO SANCHEZ percussion
Record label: AppleJazz Records
catalog # AJCD0595
Produced by Charlie Bertini
Recorded at Phat Planet Recording Studio, Orlando, FL 3/2000