Welcome to AppleJazz Music Store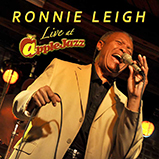 LIVE AT APPLEJAZZ
Ronnie Leigh
PRICE: $11.00

No rehearsals, no charts, no arrangements. The annual AppleJazz concert is a collection of first-class musicians who gather once a year to jam in an intimate atmosphere in front of an eager audience. These songs, selected from three years' of AppleJazz performances in 2009, '10 & '11 feature singer Ronnie Leigh backed by those terrific musicians in some wild and spontaneous performances. Unique in style and tempo, these selections are sung with an energy and spontaneity that can't be produced by planning and rehearsing. Riding that energy with confidence, creativity and class is Ronnie Leigh with his amazing voice and stage presence. This, his first-ever solo album is long overdue.
- Charlie Bertini
President, AppleJazz Records
Ronnie Leigh's Long-Overdue Studio 'Debut'
For the past five decades, he's wowed audiences everywhere from Istanbul to Winnipeg and from Detroit to Philly to the Big Apple, in theaters, arenas, stadiums, gazebos, concert halls, nightclubs, and dance halls.
And over the course of those five decades, at thousands of gigs, concerts and performances, Ronnie has never come up short. If this was baseball, this guy's the musical equivalent of Hank Aaron,.... a guy who hits it out of the park every night, and never fails to delight audiences wherever he performs. His multiple-octave vocal range, engaging stage presence, singular style and his love of the music always comes across, and whether he's interpreting Monk, Al Jarreau or Duke, the man's consistently sensational!
If you're wondering who the incredible vocalist is on these tracks, his name is Ronnie Leigh. And if you're wondering why you've never heard his CD's before, I've been wondering about that very thing for the last 30 years. Some debuts obviously take a bit longer than others. Not sure why that is, but the wait has been worth it.
- Frank Malfitano,
Founder, Syracuse Jazz Fest
Musicians:
RONNIE LEIGH vocals
JEFF PHILLIPS keyboards
RONNIE FRANCE bass
MARK DOYLE guitar
DAVE HANLON drums
CHARLIE BERTINI trumpet
TERRY MYERS tenor sax
JOHN ALLRED trombone
Record label: AppleJazz Records
Catalog # AJCD0048
Produced by Charlie Bertini
Recorded by Ray Ackerman at the Pavilion, Little York, NY
Mixed by Veit Renn
Mastered by Bob Katz