Welcome to AppleJazz Music Store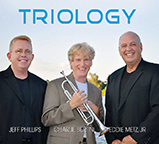 TRIOLOGY
Charlie Bertini
PRICE: $11.00

The Trio
We started this trio for two reasons: to have some fun with a small, compact group, and to keep costs economical. Jeff, Eddie and I have worked together in many musical groups; Jeff's unusual talent for playing bass pedals gave us a rare opportunity to book the trio in small venues and jazz clubs and keep the group affordable for our audiences.
A trio might seem limited in its musical scope, but the opposite is true. We can play almost any style of music, and improvise on a song without having to communicate with a large ensemble of players. The result is spontaneity and freedom to "go anywhere" musically. And again, Jeff's talent means that the keyboard player and bass player always agree on the changes!
Keyboardists that accompany themselves with bass lines are not new. Jimmy Smith, Shirley Scott, Groove Holmes, Dr. Lonnie Smith, and Joey DeFrancesco have all dazzled fans with swinging bass lines since the 1960's.
Having this variety in repertoire made it difficult to name this album, as we didn't want to classify the music into a specific category. It is a study in styles ranging from Swing to Pop to Broadway to Latin to New Orleans Parade music. Thanks goes to our brilliant recording engineer, Veit Renn, who appropriately named the project TRIOLOGY. Trios certainly aren't unique, but this one is. We hope you will enjoy this music again and again.
- Charlie Bertini
Musicians:
CHARLIE BERTINI: trumpet, flugelhorn
JEFF PHILLIPS: keyboards, midi bass pedals
EDDIE METZ, JR: drums, percussion
Record label: AppleJazz Records
Catalog # AJCD0003
Produced by Charlie Bertini
Recorded and mixed by Veit Renn at The Mix Palace, Lake Mary, FL September 2010
Mastered by Bob Katz at Digital Domain, Orlando, FL